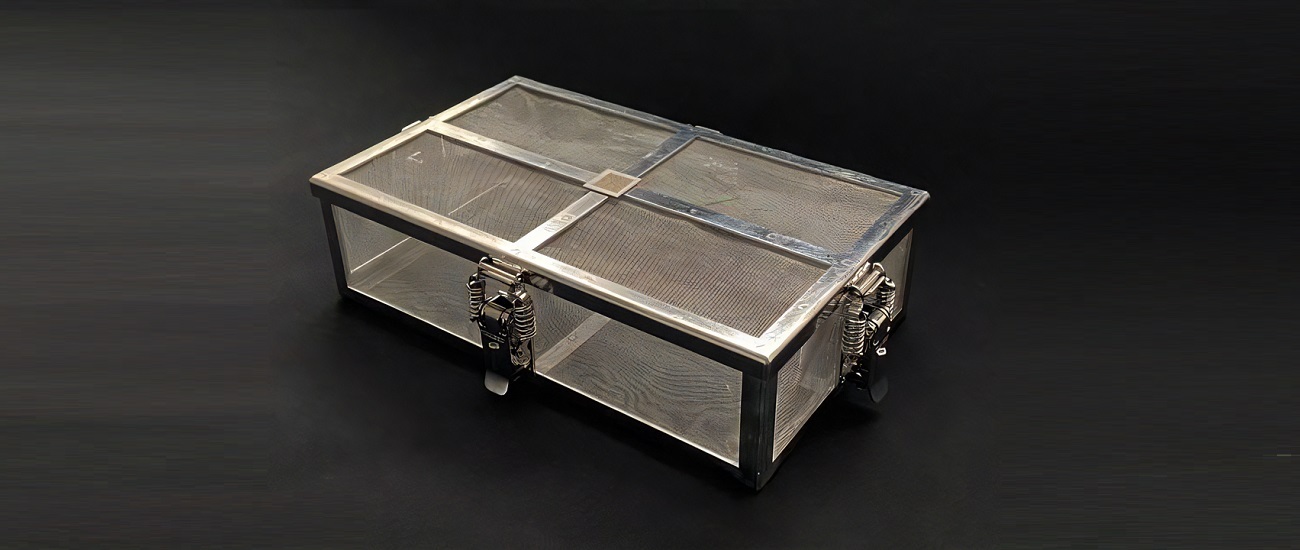 We custom design products according to customer requirements. We process practical products using the latest design and processing equipment and advanced production systems. We provide systematic proposals from design and prototyping to mass production.
Washing basket
We produce stainless steel cleaning baskets in custom sizes!
We offer custom-made net baskets in various shapes such as square baskets, round baskets, thin baskets, small baskets, and large baskets from one piece to mass production.
We can also modify your existing baskets, change the shape and production method, add functions, and reduce costs.
Features of our products
■ Materials that can be manufactured
・Stainless steel(SUS304, SUS430, SUS316, etc.)
・Aluminum
・Resin(Teflon, nylon, ABS, vinyl chloride, etc.)
・Netting(punched netting, various types of woven netting)
・Wire
・Round bar
・Round, Square deformed pipe
・Various coding
■ Sizes available for production
For 1φ parts up to 1mm.
Custom sizes, special specifications, tiered piles, lids, handles, etc.
We can manufacture according to your request.
We can also manufacture according to the model and size of the washing machine.
■ Main Products
Cleaning baskets, cleaning trays, precision cleaning, degreasing work, cleaning containers, degreasing and drying, barrel work, etc.
■ Main applications
◆Ultra-precision micro parts cleaning containers (for cleaning small amounts of micro watch parts and expensive parts)
※Ideal for cleaning small quantities of expensive micro parts.
◆For cleaning electronic parts (small electronic parts, semiconductor chips)
※Small, fine-grained baskets for cleaning expensive semiconductor parts and microelectronic parts.
◆For cleaning optical components (lenses, prisms, mirrors, optical elements)
※No scratches, Secure with ultrasound to prevent movement
◆For cleaning medical equipment (cleaning, disinfection, and sterilization of medical equipment)
※Smooth finish with little adhesion of dirt(electropolished)
※Cleaning of micro pointed suture needles(Fine mesh, Teflon mesh used)
◆For cleaning and sterilization services(baskets for contract cleaning and sterilization services)
※No unraveling of nets →No damage to gloves
◆For reduces pressure vacuum cleaning(Micro FPCs for mobile phones, brint substrates)
※Cleaning baskets with dividers for micro parts, products do not move.
◆For vacuum cleaning and drying(lead frames of semiconductors)
※Good liquid removal and easy drying
◆For pharmaceutical research cleaning(instruments for drug discovery and biotechnology research experiments)
※Effective cleaning by posture alignment
◆For cleaning metal parts (automobile parts, machine metal parts)
※Preventing the accumulation of cleaning liquid in the alignment of products with deep holes, Robot removal
Production Examples
■ Smart Washing Basket®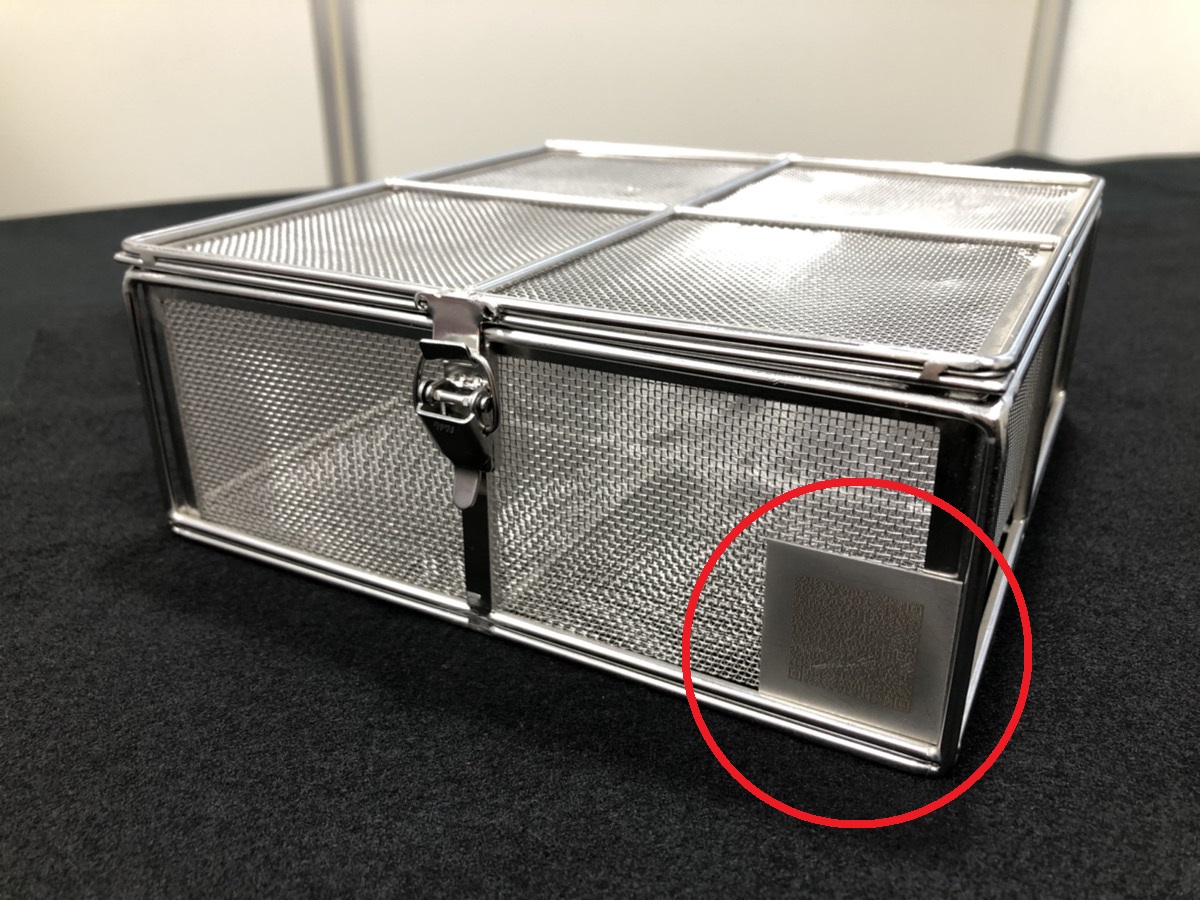 We developed its own "Smart Washing Basket" with QR code attached to the side of the basket. (Registered trademark No.6412766)
By linking it to a production management system, process information such as the type and number of items to be washed and the washing time can be displayed on the terminal.

---
■ Ultra-compact cleaning basket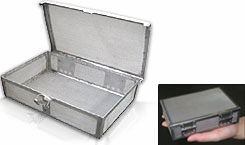 Size: 150 x 100 x 40 (mm)
Material: SUS304 Net: φ0.22×30 mesh
This is a cleaning basket for small parts that is extremely easy to put in and out, and the lid net is all removable.
The mesh is a 0.7mm fine mesh, spread out to the maximum extent on 6 sides to allow ultrasonic waves to pass through easily, but the stainless steel plate ensures strength.
---
■ Round flat cleaning container for precision cleaning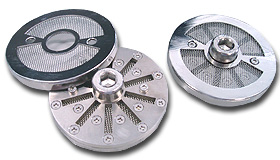 Size: Approx.50(mm)
Micro products are inserted into the long, narrow holes radially aligned on the disk-shaped container, and the lid with a mesh is placed on top for cleaning.
This prevents scratches and deformation caused by rubbing of products against each other due to ultrasonic waves and shaking of the cleaning solution.
---
■ Basket for food processing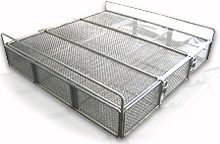 Size:700×700×80(mm)
This is a flat basket used for heat treatment of food.
The lid opens and closes widely and can be easily removed. In addition, the dividing net can be moved freely, making it difficult for the food in the basket to move.
---
■ Basket for cleaning odd-shaped parts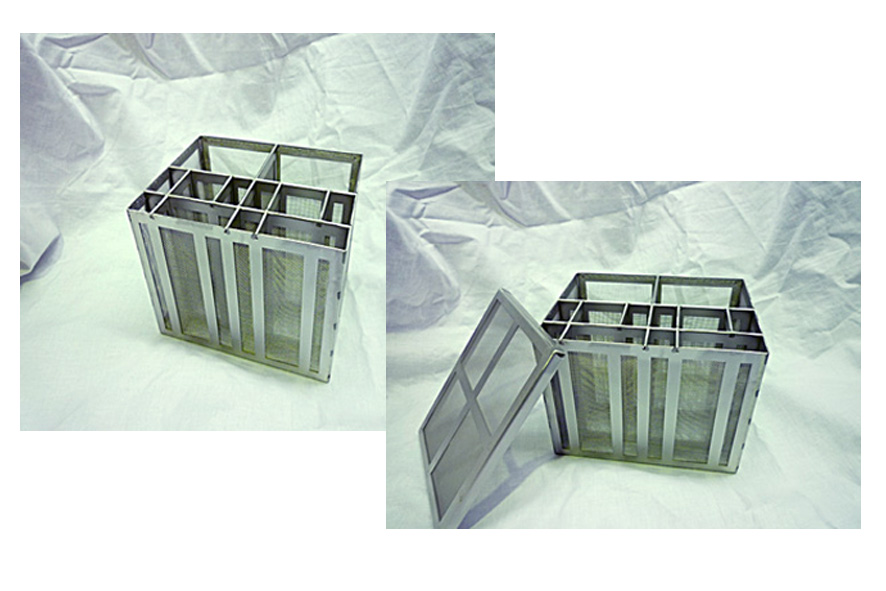 Material: SUS304 t=1.0
Size: 130×107×110(mm)
Different size partitions are provided for effective cleaning of multiple types of odd-shaped parts at the same time.
---
■ Ultra-precision micro parts cleaning container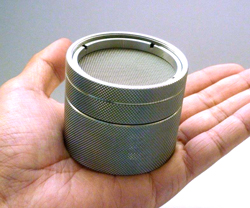 This container is used to clean only a small amount of precision micro parts that are smaller than a grain of rice.
When the product is put into one of the two separate containers and the two containers are screwed together, the gaps are eliminated.
The mesh space can be as small as about 0.07mm (200 mesh).
---
■ Electronic parts cleaning basket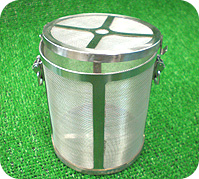 Size: 70φ×70(mm)
Material: SUS304 Mesh:40 mesh
The lid can be removed. It is removable and is fastened in two places with a clasp lock.
This is a palm-sized basket.
---
■ Ultra-precision cleaning basket for FPCs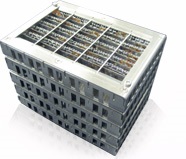 FPCs (Flexible Printed Circuits) the size of a fingertip can be individually stored and cleaned at reduced pressure, with a partition gap of less than 2/100 of a millimeter.
A large amount of FPCs can be ultrasonically cleaned without damaging them!
---
■ Basket for ultrasonic cleaner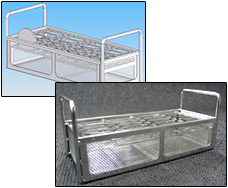 Size: 200×80×40 (mm)
Material: SUS304 Net:φ0.5×10mesh

This basket is used in the container of a washing machine.
These custom-made baskets are designed for ease of use and to prevent scratches and scraps during cleaning.
---
■ Stackable washing basket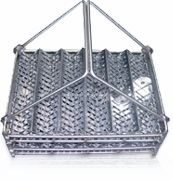 Size: Length240×Width310×Height56(mm)
These baskets are used for cleaning cutting parts.
Stainless steel material provides superior strength and corrosion resistance. Holds parts vertically even in a washing tank.
---
■ Washing baskets for automatic machines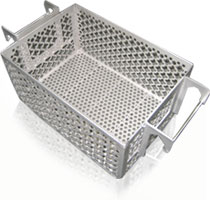 Size: Length220×Width300×Height200(mm))
Material: SUS304, punched out, reinforced by round bar.
This is a stainless steel perforated mesh basket to improve the fraying and deformation of conventional woven mesh baskets.
The special hole shape provides the same drainage performance as the net basket, but with greatly increased strength.
---
■ Basket for rotary washing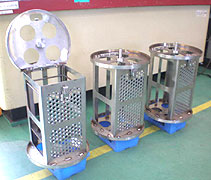 Size: 250(diameter)×330(height) (mm) Material: SUS304
This is a rotating basket for barrel washing.
Small parts are placed in the square net, mounted in the rotating basket, and washed in a washing machine.
---
■ Workpiece fixing type washing basket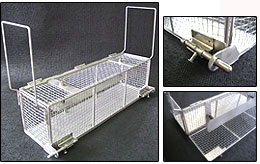 Size: 520×150×360 (mm)
Material: SUS304 Mesh: Linear φ1.1×2.5mesh
A workpiece that floats when placed in the washing tank can be fixed from above and washed.
The basket can be opened and closed not only from the top but also from the truck bed opening structure.
---
■ Washing basket with lid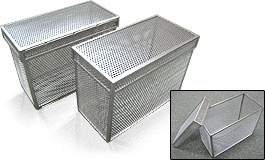 Size: 202×100×145 (mm)
Material: SUS304 t1.0, sandblasted finish
Perforated metal: φ3×P4
This product is made of stainless steel perforated (round hole) plate.
スCompared to nets made of stainless steel wire, this product has outstanding durability.
---
■ Custom-made divider washing basket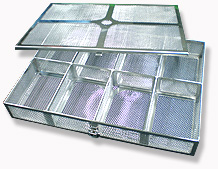 Size: 280 x 200 x 40 (mm)
Material: SUS304 Mesh: t0.8×plain weave 14 mesh
This is a custom-made washing basket with 8 equal partitions.
---
■ Cylindrical washing basket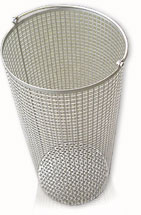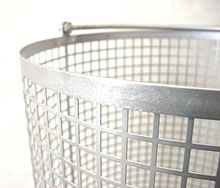 Size: 250 (diameter)×600 (height) (mm) Hole punch: 8.o×8.0
Material: SUS304 Weight: Approx. 850g
Punching process
Since no netting or wires are used, the product is strong and resistant to deterioration.
There is no danger of wire unraveling.
---
■ Small parts cleaning basket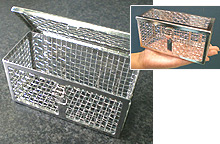 Size: 140×55×70 (mm)
Material: SUS304 Net: t0.8×4 mesh
The lid can be removed.
This is a palm-sized cleaning basket that is fastened in one place with a clasp lock.
---
■ Hexagonal rotating washing basket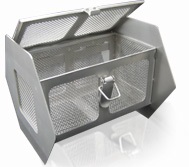 Size: Basket section 210×110×111 (mm)
Material: SUS304 Net:t0.5×plain weave 10 mesh
This is a special washing basket for rotary washing.
---
■ Small washing basket(net)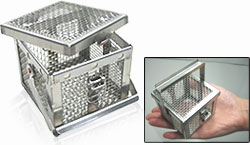 Size: 70×70×70 (mm)
This is a washing basket for small electronic parts.
---
■ Small washing basket (punching)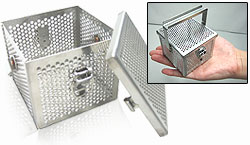 Size: 70×70×70 (mm)
This is a washing basket for small electronic parts.
---
■ Separation and transport baskets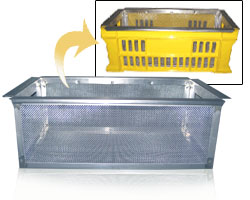 Size: Depends on the size of the plastic container
Material: SUS304 mesh net + sheet metal processing
This stainless steel mesh basket can be stored in general plastic containers. It is used for separation of barrel polish and separation of products and scrap.
To be stored in a resin container, it features improved strength even though it is lightweight.
The durability of use has been greatly improved by eliminating wire fraying,
---
■ Ultra-small cylindrical basket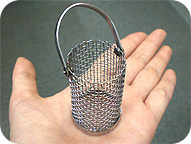 Size: 30 (diameter)×50 (height) (mm)
Material: SUS304 Net: t0.5×10 mesh
This is a small but strong, washing basket with a handle.
This size can be manufactured from 1 piece!
---
■ Pinch Cleaning Jig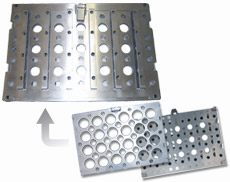 Parts do not move even when vibrated during cleaning or transfer.
The parts are cleaned by pinching them between two jig plates that match the part shape.
---
■ Cleaning basket for small parts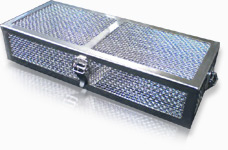 Size: 20×80×40 (mm)
Material: SUS304 Mesh: φ0.5×10 mesh
It has good drainage of cleaning liquid and is fastened with clamps on four sides to prevent the lid from opening during cleaning (the lid is removable).
---
■ Stainless steel wire basket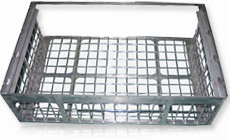 A washing basket made of stainless steel round bar and stainless steel wire mesh.
---
■ Stainless steel pipe basket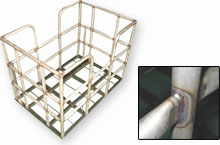 This is a basket that can dehydrate and dry at high speed for washing large parts.
This product is assembled with stainless steel pipes.
---
Estimates and Requests
Please use the form below to request a quote.
A representative will contact you shortly.
You can also fill out the "Request for Quotation Sheet" (PDF) below and send it to us by e-mail
(eigyou@arktech.co.jp) or fax (0282-86-0365).